The Betsey Wynne, Swanbourne.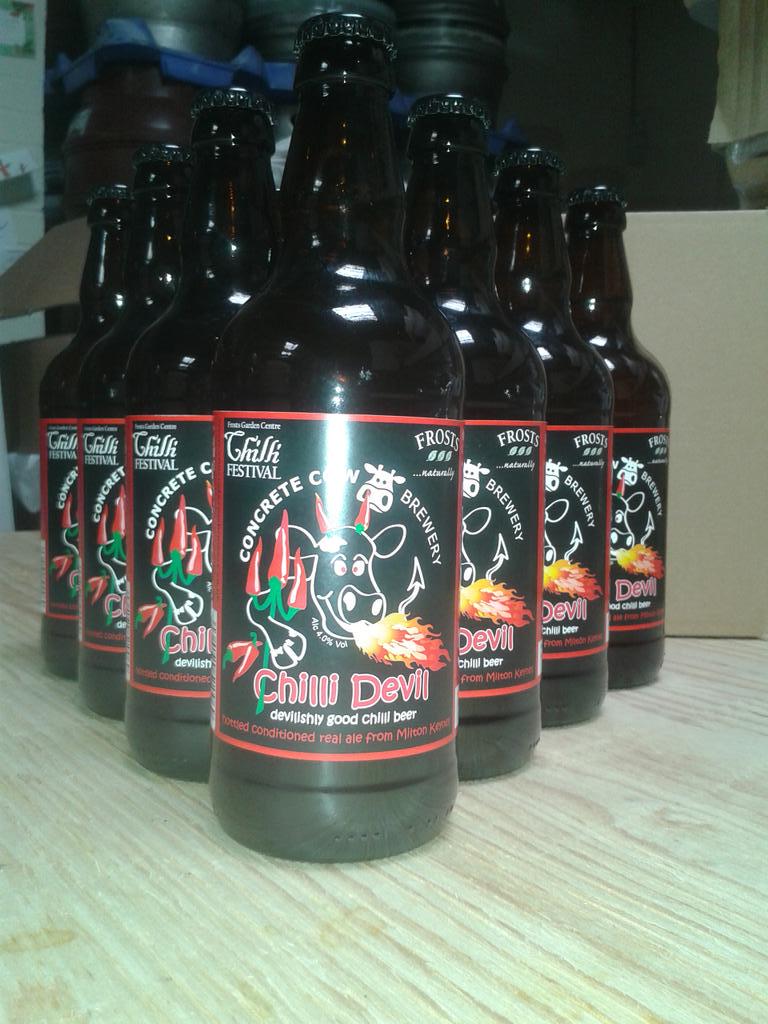 Concrete Cow's new Chilli Devil.
Looking for something to do to round off the month of August? Don't fancy our 'wild west' minibus crawl (see below)? How about some of these great events...
The Betsey Wynne in Swanbourne is holding its second drinks festival of the year on Saturday 29th and Sunday 30th August. Not only do you get a wide range of real ales, including ales from all three of our branch breweries and may other local brews, there is also a great selection of ciders, wines and gins. Add in a quality food offer and a range of musical entertainment, including the UK singles chart bothering Gabrielle Aplin. Free admission, check out Twitter for more information.
If you're lookig for something a little more down to earth, how about the beer festival at Newport Pagnell WMC on Saturday, Sunday and Monday, 29th-31st August? There will be live music and family entertainment to go with the beers & ciders and non-members are welcome. Find them at 28 Silver Street, MK16 0EN and check Facebook for details.
Olney Rugby Club are also advertising a beer festival on Saturday 29th August on their website. The beers are from the Marston's stable, including some of their more unusual brews. Ciders are from Virtual Orchard.
Further afield, the highly regarded and award winning Rising Sun is just down the rail line in Berkhamstead and they're running a beer and cider festival from Friday 28th to Monday 31st August. This canal side boozer is extremely popular, so we'd advise getting there early to catch the full range of beers!
If you fancy something a little different and like things hot, the Chilli Festival at Frost's Garden Centre in Woburn Sands could be for you. Not only will they have a truly spectacular range of chillis, family entertainment and live bands, they also have a new Concrete Cow chilli beer called Chilli Devil on offer. Set your satnavs for MK17 8UE (or hop on the 300 bus from CMK) and get there between 9am and 6pm on Saturday 29th or Monday 31st August. It's just up the road from Woburn Sands rail station too. Entry is £3 for adults, with under 16s and car parking free. See Twitter for more info.
Are you holding a beer festival or other real ale related event? Tell us about it via email to This e-mail address is being protected from spambots. You need JavaScript enabled to view it or Tweet us @mkcamra and we'll do our best to pass on the details.