It's that time of year folks, when the snow and ice of winter is finally banished CAMRA sets out to promote mild, an often misunderstood and neglected beer style which can be so much more than warm, flat, brown and, well, mild. It's a beer style that isn't seen much around MK, so your best chance of seeing any is probably one of our three JD Wetherspoon outlets. If you do happen to see mild being served in our branch area pubs, do drop us a line, or better still submit a beer quality score and we'll let other drinkers know.
CAMRA also designate May as one of its two annual cider & perry months. It's the time of the year when the results of previous years' apple and pear harvests reappear as new-season cider and perry. It's also the time of year when the fruit trees are full of blossom in the nation's orchards. Woughton Orchard and Virtual Orchard are our two local producers, so look out for their products in your local. The Red Lion in Fenny Stratford is our current Cider Pub of the Year and will give you a choice of four ciders. The Bell & Bear in Emberton stocks a variety of ciders too, mostly bottled but featuring local and unusual producers. Beer festivals often stock a good choice, even if they don't shout about it.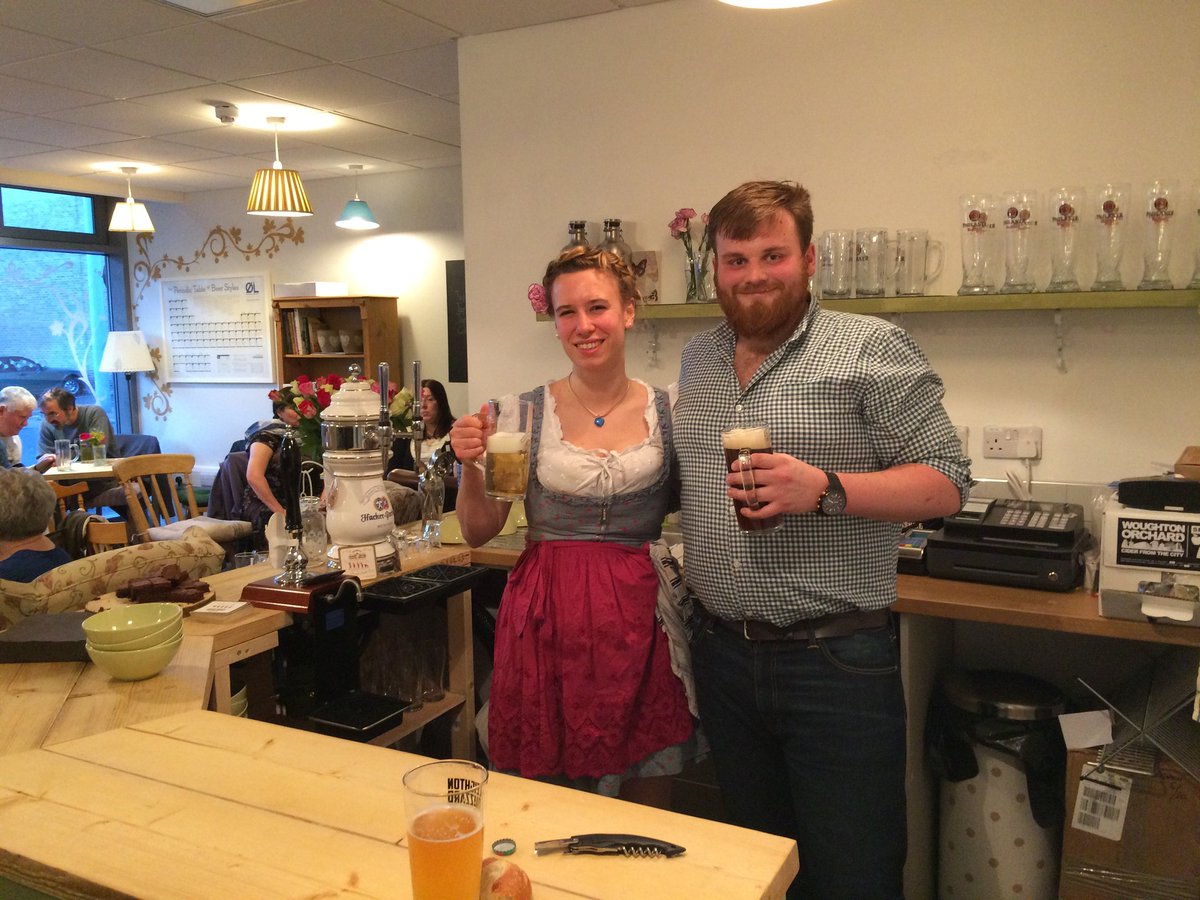 Inside the Biergarten with Franzi and Hagar. @MKBiergarten
May's big event in our branch is probably the opening of the Biergarten, a new bottle shop and micropub in Wolverton Park, between Wolverton's Tesco store and the town's rail station. After a couple of test events at the end of April, it's first day of trading to the public is Sun 1st of May. You may be a little disappointed to see a single handpull on the bar alongside a couple of taps dispensing German beers, but feast your eyes on the shelving! You can choose from around 150 different beers, focused on those from local breweries, London breweries and Yorkshire breweries, plus a good selection of world beers. Not everything will meet CAMRA's definition of real ale, but we'd like to suggest that you must have had your taste buds surgically removed if you can't find something you like here. The Biergarten will be open on Bank Holiday Monday before adopting its usual opening hours, Thu 12:00 to 20:00, Fri & Sat 12:00 to 22:00 and Sun 12:00 to 18:00. You can drink in the small bar (seating for around 20 people) or buy beer to take away.
The Biergarten will be hosting a series of special events to give you even more excuses to visit. The popular Bierclub run by MK Food Revolution will make the venue its new home at 19:00 on the third Wednesady of the month. The next one will be on Wed 18th of May, featuring London beers, with tickets available now at £15:00 + fees. There will also be a series of free 'meet the brewer' afternoons running from 15:00 to 18:00 on Saturdays and Sundays in May as follows: Sat 7th Hornes, Sun 8th Bucks Star, Sat 14th Leighton Buzzard, Sun 15th Twisted Barrel (Coventry), Sat 21st Concrete Cow and Sun 22nd Nobby's (Thrapston). All of these breweries will be stocked regularly.
For those not familiar with the concept of the micropub, it's typically a small bar that focuses on good beer and friendly conversation, shunning electronic entertainment and limiting its food offer to simple bar snacks. The Biergarten combines this with the idea of a bottle shop's tasting room, with a touch of German beer culture.
Early May Bank Holiday beer festivals are under way until Mon 2nd of May at the Crooked Billet Newton Longville, the Cross Keys Woolstone and the White Hart Sherington. See April's Ale Adventures for more details. Go and help them dispose of their beer and cider.
Our next branch meeting is on Wed 4th of May at the Barn CMK from 20:15 to 22:15. All welcome.
Wetherspoons on Midsummer Boulevard CMK is hosting an Oakham Ales tap take over on Thu 12th of May. Up to nine of those fine Oakham Ales will be dominating the pumps until they run dry.
We have a two pub branch social on Mon 16th of May that'll visit the Lakeside and the Ship Ashore. Hopefully the weather will be good enough to take the stroll around Willen Lake to get between the pubs, otherwise we'll have to come up with a cunning plan. (We hear the nearby Eastlake Harvester at Fox Milne has recently added cask ale, so we may add this as an optional third pub for the keen / energetic.)
Northampton County Beer Festival runs from Thu 19th to Sun 22nd of May at Delapre Abbey, Northampton. It's being run in conjunction with those fine folk at Phipps NBC and will include cask ales from Northamptonshire and further afield. There will also be a selection of craft ale and lager, cider, wines and spirits along with "funky festival food" (anyone fancy alcoholic ice cream made with Phipps beer?) and music from local bands. On the Friday, Saturday and Sunday there will be a vintage double decker bus to ferry people to and from the Albion Brewery in the centre of Northampton. Entry tickets and beer tokens can be purchased in advance from the Albion Brewery, where the beer tokens can also be used at the bar during and after the festival. Check out the Facebook event page for further information.
There are regular rail services linking Bletchley, MK Central and Wolverton to Northampton that run late into the early hours, plus Stagecoach express bus services X4/X7 and the slower X89/89 bus via Towcester until the early evening. You can also get the 33 Z&S bus service via Wolverton and Hanslope direct to the festival site at Delapre Abbey until the early evening, although it doesn't run on Sundays. You can get as far as Hanslope on the 33 with the MK Moove day ticket if you want to keep more of you cash to spend at the bar.
On Sat 21st and Sun 22nd of April it's the 2nd Berkhamstead Beer Festival at Haresfoot Brewery on Billet Lane (HP4 1HL), a short walk from Berkhamsted rail station. It's set to feature 19 beers from 14 breweries in and around the Chilterns, including some breweries rarely seen in the MK area. There are regular trains from Wolverton, MK Central and Bletchley, with times and fares available from National Rail Enquiries.
It's our turn to host the CAMRA Central Southern Regional Meeting, so we have booked the Barn in CMK from 12:00 until 17:00 on Sat 21st of May. Okay, it's not ideal given all the local beer festival action, but these things are genuinely more interesting than they may sound. There is usually a guest speaker and a representative from CAMRA's National Executive, not to mention a bunch of CAMRA members from across our region. There will also be the added spice of the election of a new Regional Director.
May comes to a close with another Bank Holiday, so expect to see a few more pub beer festivals announced as the month progresses. One such festival is Rock the Locks, featuring beer, cider, live music and BBQ food at the Three Locks in Stoke Hammond. It runs from 19:00 on Fri 27th to Mon 30th and you can get there using Arriva bus service 70 during the day. Or narrow boat.
Another two pub branch social on Sat 28th of May, this time visiting Stoke Hammond. We'll start at the Dolphin then move on to the Three Locks which, by some stroke of luck, is holding a beer festival!